Hello Everyone!
It's been a while. You already heard the news on Windows 11. I hope you guys are excited just like me. With all new features coming up ahead. It seems Microsoft is trying to catch up with the game right now. The last jigsaw to this is the new CPU where Intel will be announcing later this year. Isn't this exciting?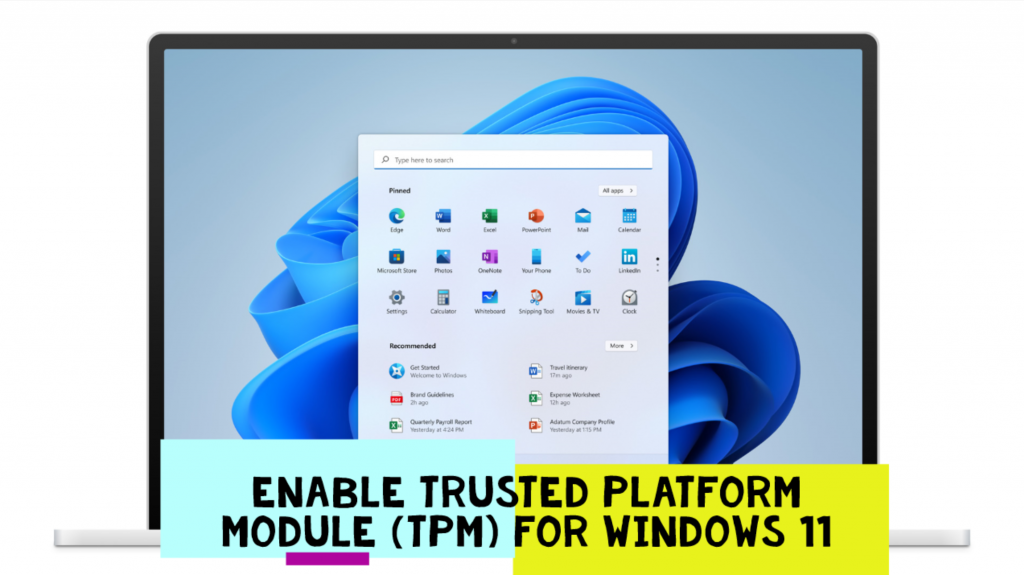 Now what I want to share with you guys today is about the current concern with Trusted Platform Module that you guys are probably having. Whether your PC is able to install and run Windows 11 or not? Here I have the solutions.
After you have ran this Windows PC Health check tool from Microsoft, some of you might not get passed the check and only the few of you are. So just to make this clear, let me tell you about this tool. It is made to check an overview spec of your system based on how OEM and brand provider are configured theirs device. This means if you are using a custom built PC there is a high chance that this tool wont detect your spec completely and so will likely to show that your system will fail for an upgrade to Windows 11! Even though, you are using the new up to date system right now, it still wont pass the check.
Despite the current hardware specification of Windows 11.
Minimum system requirements
Minimum system requirements

| | |
| --- | --- |
| Processor | 1 gigahertz (GHz) or faster with 2 or more cores on a compatible 64-bit processor or System on a Chip (SoC) |
| Memory | 4 GB RAM |
| Storage | 64 GB or larger storage device |
| System firmware | UEFI, Secure Boot capable |
| TPM | Trusted Platform Module (TPM) version 2.0 |
Minimum system requirements

| | |
| --- | --- |
| Graphics card | DirectX 12 compatible graphics / WDDM 2.x |
| Display | >9" with HD Resolution (720p) |
| Internet connection | Microsoft account and internet connectivity required for setup for Windows 11 Home |
Certain features require specific hardware, see detailed system requirements.
I would say that if your system is within 3-5 years, it should be okay to run Windows 11. Now just to be specific.
If you are using Intel 8th gen CPU or later you should be FINE.
Other than that rest is up to be up to your Mainboard and Trusted Platform Module chip that is installed. If your mainboard doesnt have one then it is good to wait for Microsoft to announce the workaround, I'm sure they are on to it. Eventually I dont think they will let this be the reason of the blocker. But yes, in the worse case you might have to buy the new mainboard as a last resort.
What is Trusted Platform Module (TPM)?
All you need to know is that it enables the support for Windows11 to be more seamless and supporting the future CPU that is much more robust and to be always on and resposive in the usage. Some features that makes Apple M1 chip performs today/
Now back to the topic, for system other than OEM or branded system, can we check and enable TPM 2.0?
Yes and No, I found out that there is a better way to check your system other than the Microsoft one using this 3rd party open-source program called Win11Syscheck. This tools show way more detail reason of why your system is not support. You can download and give it a try. Here is the screenshot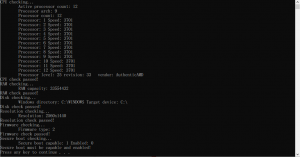 Or else you can always check in your mainboard manual whether you have Trusted Platform Module installed or not.
From this point most likely what will be the blocker is either your CPU or Mainboard (TPM) or both.
So can we Enable Trusted Platform Module (TPM)?
If your mainboard is already supported and TPM is the reason, then you can easily enable it in your system BIOS settings. Usually, TPM is set to off as default, so all you need to do is switch it back. Just like what I did to my system.
| | |
| --- | --- |
| CPU Family | Trusted Platform Module Naming |
| INTEL | Trusted Platform Module (TPM) |
| AMD | Firmware Trusted Platform Moduler (fTPM) |
TPM naming in different CPU family
This is the result before enabling TPM.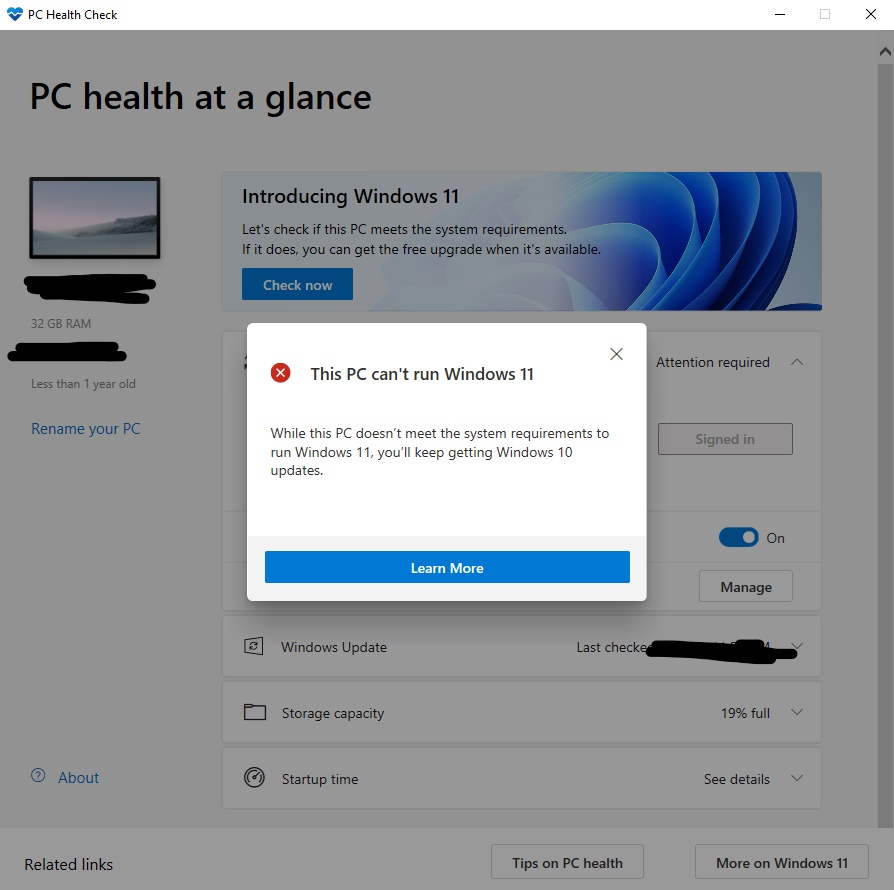 And this is the reason. There is no TPM in my security devices list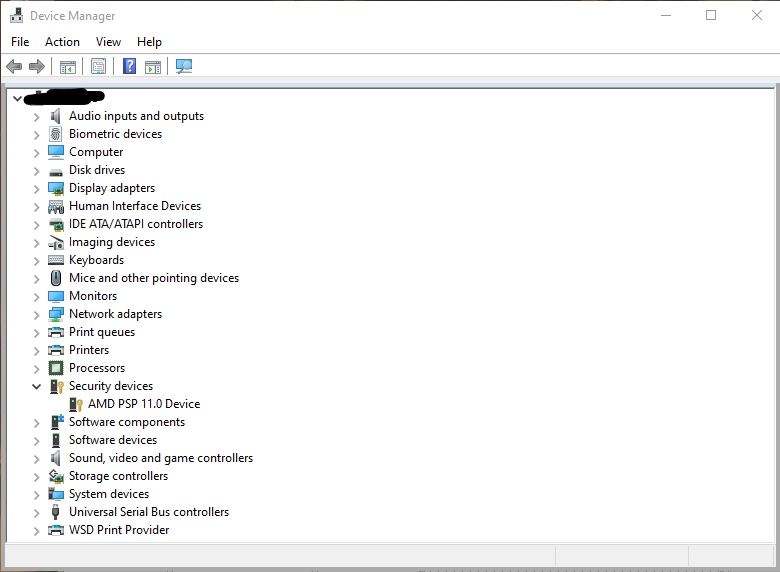 So what I have to do is to go in to my BIOS setting and enable it.
Please note that different motherboard brand has different menu and naming.
Go to Settings > Security
Then Trusted Computing
Go to Security Device support and Enable it
Save your setting and reboot!
Now once you did that and returned to Windows desktop successfully. You can run the check again with Microsoft PC Health check tool. And here are the results.
Boom!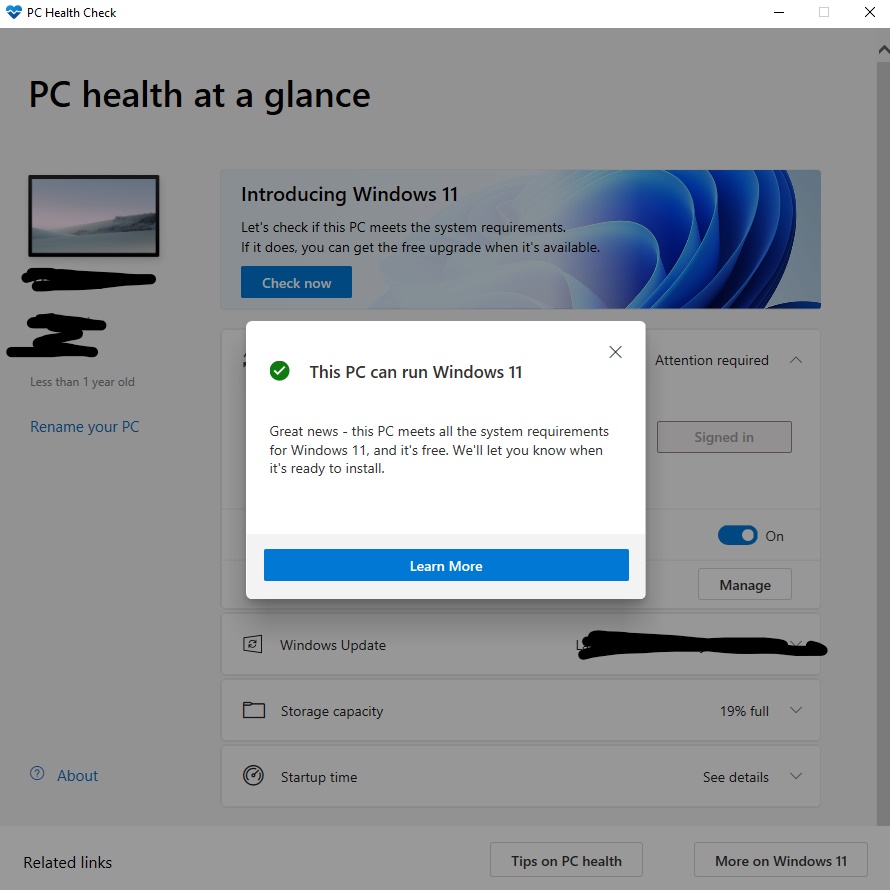 Yes, in my case after enabling the the setting in BIOS, now my system has passed the check! Now let's go back and check other part that was missing before!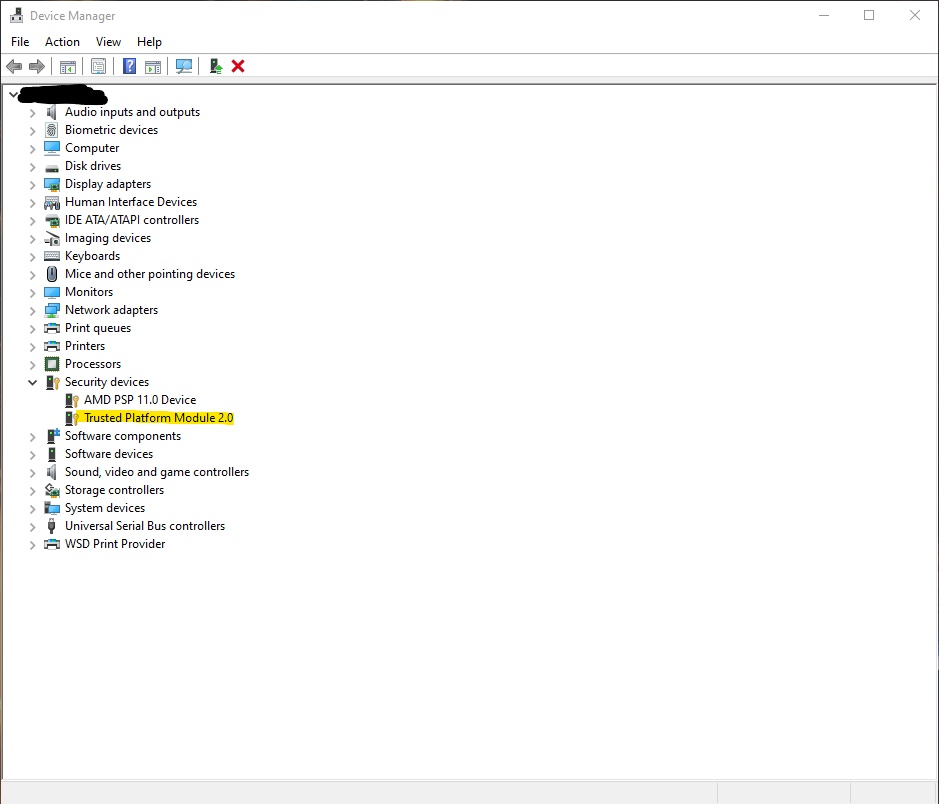 You can see that suddenly Trusted Platform Module 2.0 is now showing on my Device Manager window.
So clearly, this is the workaround that you need to check and enable your system to be compatible with an upcoming Windows 11 OS!
Please noted that things might change later on, we will be seeing the new PC Health Check tool along with many new firmware updates for different mainboard to activate this Trusted Platform Module.
Or if not, may be it's time to upgrade your system. Clearly CPU and Mainboard are the combination that needs to go together.
Eventually, Microsoft will find a way for you to upgrade to Windows 11 without paying any extra fees for sure. So I'm sure with or without hard reasons you will eventually get to use it sooner than you think.
Good luck checking and try the workaround! Have a safe day guys!